This wedding was the blissful beginning of Wonders & Weddings. It's the celebration of the marriage between our founder Wannida and her husband Christian at Neilson Hays Library, Bangkok. They celebrated with a humanist wedding and modern Thai water pouring ceremony. The experience was unique and impressive for their families and friends from Thailand, Germany, and more.
List of Wedding Vendors
Wedding Planner: Wonders & Weddings | Venue: Neilson Hays Library | Floral Designer: Wildflora Studio | Catering: Charm Catering | Live Jazz Music: The Day Thailand | Photographer: Coffee Photo
Personal and intimate celebration
The idea of redesigning the wedding timeline came from our desires to celebrate our wedding in a special way. We wanted everyone we loved to be there. And to remember the feelings of happiness and love that we shared with each other and our guests. Our party had roughly about 70 people who came from different cities in Thailand, Germany, and more. Allowing us to have quality time with them and share our story on a deeper level.
Wedding venue: Neilson Hays Library
The venue played an important role for our wedding as it determined the livelihood and the convenience. It was the first service we booked. We chose Neilson Hays Library from our shared love of reading as book lovers and as admirers of this beautiful, unique space. Inside the library also went well with our vintage-style reception. We had long tables and assigned seats for all guests while serving a mixture of cocktail-styled bites and main course stations.
Redesign the experience
Besides the speeches from our best friends, we also included two other activities that meant a lot to us. One was the Thai water pouring ceremony. During this time, we got to speak with all of our families and friends face-to-face. We simplified it with more modern elements with repurposed flower arrangement.
The other was swing dancing, which was the unique story of our relationship. We also wanted our guests to enjoy the fun from swing dancing like we did. So we invited our friends from Bangkok Swing to help teach basic steps before we had our first dance with "The Living Room Routine". Families and friends later came in to join the floor along with live jazz music.
Candid photography
In our own style, we loved seeing the pictures being taken the exact moment they happened. We trusted our two teams of photographers to use their own judgments with storytelling photography that reflects genuine feelings and emotions. Our guests could also use a Polaroid camera to take fun pictures and share them with our wedding hashtag #scheelwedance.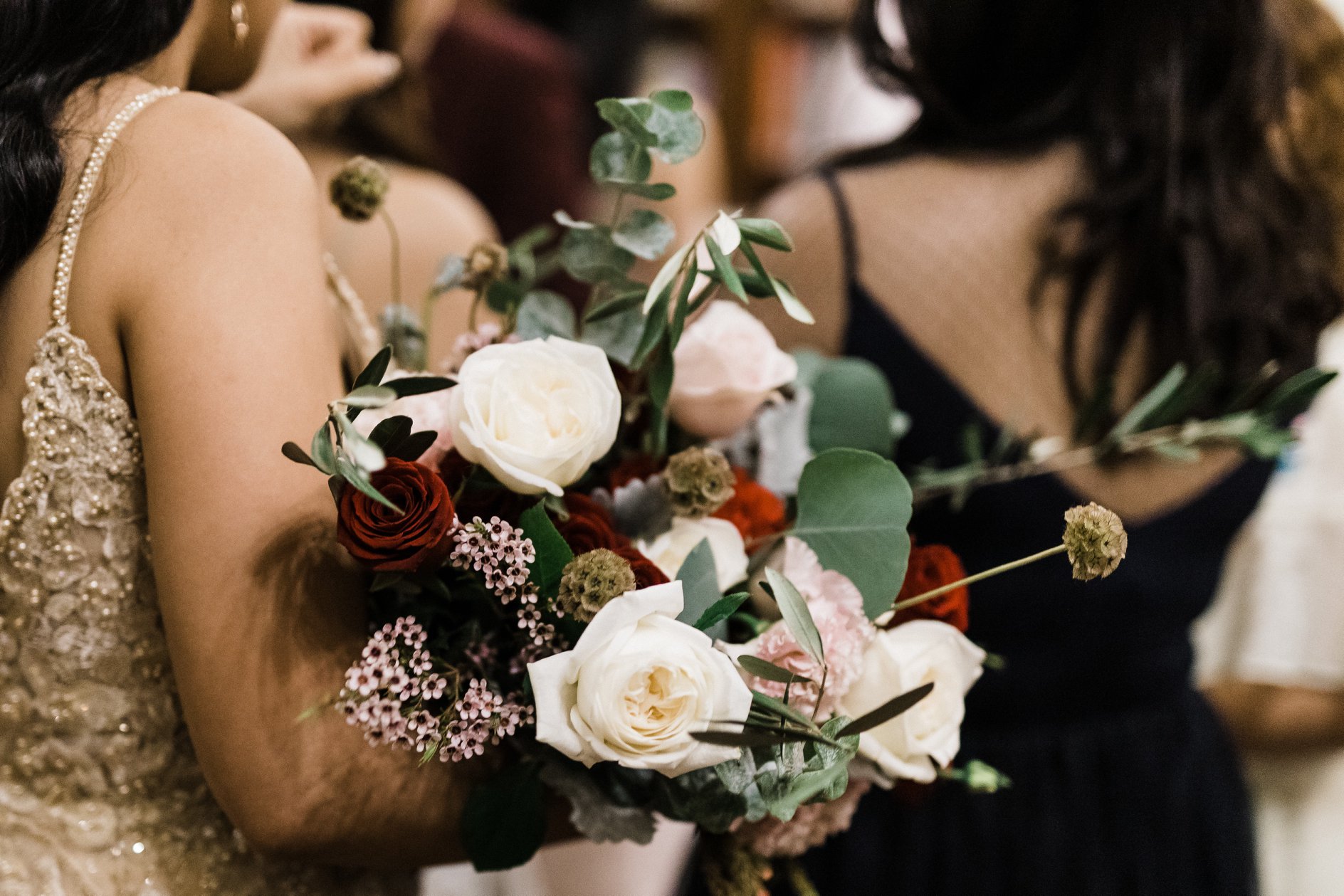 Planning your library weddings
It's the best feeling to have a true-to-style, meaningful, memorable wedding for you and your guests at Neilson Hays Library or any venues of your choice. We will be very happy to serve you as your full service wedding planner - taking care of your personal elements and designing your unique wedding timeline.
Get in touch with Wonders & Weddings by filling the form below.