If you understand that you should hire a wedding planner for a big wedding only, this post may change your mind. This intimate celebration of S+K at Sailom Sangdad Homey Studio with families and friends was living proof that Wonders & Weddings can help save your day - even if you have a small wedding!
List of Wedding Vendors
Wedding Planner: Wonders & Weddings | Venue: Sailom Sangdad Homey Studio | Decorations: Harmonize All Your Weddings | Catering: Boxa | Photography: Jina Portfolio by Ninefoto
Dream Venue for Dream Wedding
This wedding was originally planned at another venue and had to be changed in less than two months before the wedding. Knowing the couple had their dream wedding venue as a house with the garden in mind, Wonders & Weddings helped source the new options right away. And the couple got to spend their special day in the loveliest and colorful home-inspired space at Sailom Sangdad Homey Studio.
Intimate Pastel Wedding Concept
S+K envisioned their special day to be filled with love, warmth, and laughter from their families and close friends. They celebrated with around 100 guests who have been with them both throughout different life events. The color palette for their wedding consisted of white, ivory, baby pink, and pastel blue to reflect their sweet and romantic relationship. Decorations were kept minimal to allow the venue and their beloved guests to be the focus of this love story.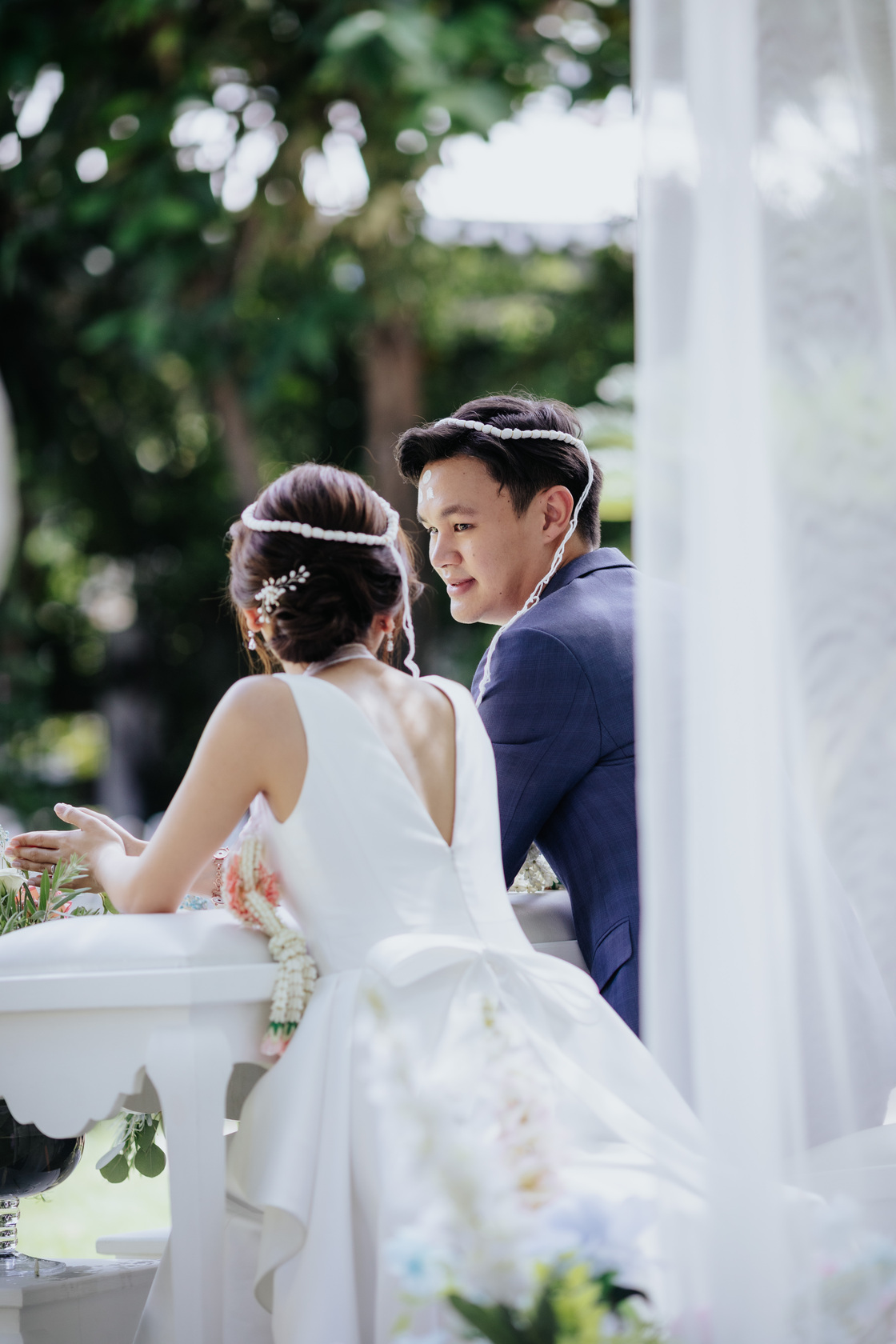 Wedding Sequences Kept Simple
The morning started with a simple Thai engagement ceremony and a simple gratitude ceremony for the couple to pay respect to the elderly and family members. Then it was time for a water pouring ceremony, where the couple's parents took turns to wear floral crowns and painted their foreheads as the start of the blessing. The day continued with lunch and a surprise song from the groom and his friend. And ended with delicious cupcakes, made by the bride's talented aunt. 
Kind Words From the Couple
"We're extremely impressed with Wannida and Wonders & Weddings team. Our June wedding wouldn't happen without their help! During the planning process, we had to change the venue urgently, Wannida helped us source the new venue that matched perfectly with our dream vision! The wedding day was smooth and on time. We felt very well taken care of. Wannida is so approachable and you can talk to her about anything. We strongly recommend her and her team. You will feel at ease while planning your wedding!"
Planning Wedding at Sailom Sangdad Homey Studio
Your wedding day is for you to enjoy at the fullest. Let us take care of things behind the scenes. If you're looking to celebrate your intimate wedding at this studio or other locations, get in touch with Wonders & Weddings.